The latin phrase
'Vi et Animo' translates to;
'With Heart and Soul'.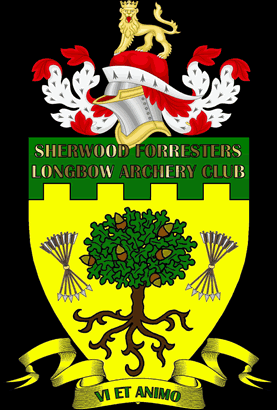 To e-mail us please
click
here
.
Thank you.

If you have any problems with the words or pictures
overlapping, go to 'Page', 'Text size', then click on
the next size down. Thank you, Peter.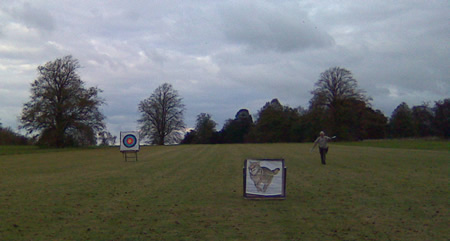 Welcome to the home of the Sherwood Forresters Longbow Archery Club.

We only shoot English longbows.
We shoot in the grounds of Barlborough Hall, Barlborough, Derbyshire, J30 M1. We are two minutes from the Motorway and we are ideally situated for longbow archery in Sheffield, South Yorkshire, Nottinghamshire, Derbyshire and Lincolnshire. In the middle ages the club grounds would have been part of Sherwood Forest, Robin Hood country! The bows we use are the same type as Robin Hood would have used. If you enjoy the BBC film series of Robin Hood or enjoy the Robin Hood films such as 'Robin Hood, Prince of Thieves' starring Kevin Costner, why not come along and have a go yourself?
If you are interested in a beginners/taster course of 4 sessions at a total cost of £40 (with £20 refundable upon joining SFLAC) or are an experienced longbow archer looking for a new Club please email us with your queries.
Shooting will be 24/7 once we have enough experienced archers
to supervise beginners and improvers. Please click here for
more information regarding archery for beginners and beginners courses.
Please note the minimum age for beginners is 14 with parent/guardian in attendance at all times, there are no exceptions to this.
The area used by the Club on a day-to-day
basis is in excess of 12 acres of rough grass and
trees, ideal for Roving Mark and Field Shoots. Our target field is
approx 50 yards by 180 yards (plus an extra 150 yards overshoot) and is mown every week.

We are not affiliated with any archery
organisation or society, we carry our own extensive
£5 million Club insurance which covers us for all
traditional archery shoots, such as target, clout, roving,
field and mediaeval skill rounds such as: Friar Tuck's
Grasp and shooting the wand.Please click here to see Letter Of Insurance pdf.
Archery is a gentle and enjoyable form of exercise,
please click here for more information.

Our fees are:
Full (Adult) £105
Junior £60
Over 60s £80

Target/session fee £ 10(BLBS or GNAS or NFAS)
(please note there are no target/session fees for members)
Beginner £40
Have a Go £15
For more information you can download a pdf file by clicking
here.
If you fancy doing a have-a-go session or a beginners course it would help if you read our safety and code of behaviour flyers, please click here to access the page.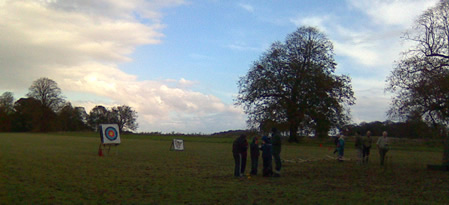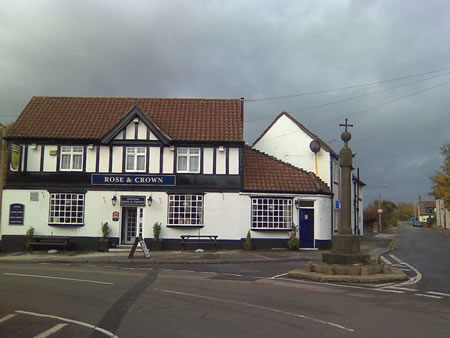 Our Club is situated at the end
of Park St which runs along the
side of the Rose and Crown.

Why shoot English longbow only when you could shoot recurve bows or compound bows with much greater accuracy? A question we put to Pip Bickerstaffe, a professional bowyer, friend and Club Member, he replied,
"The English Longbow is a large part of our heritage and learning to master shooting the longbow is one of the defining joys of traditional archery. The simple pleasure that we can all experience as we achieve each little step towards mastering the Longbow cannot be measured in medals and awards. It is the personal satisfaction that comes from a job well done, with no aids or gadgets to diminish the pleasure.

In this modern technological world there are few simple pastimes left where people can switch off all electronic bits and pieces and shoot a simple wooden bow and wooden arrows in the same way that the English have for the last 1000 years and more. Little of any significance has really changed in this sport and you can genuinely feel the association with our ancestors as each arrow flies to the mark."
Why are we different from other archery clubs?
We only shoot English longbows and we shoot target, field, clout, roving and all forms of archery whilst most other clubs seem to shoot only in one discipline such as target or field archery. What is wrong with other styles of archery we ask? We like to think we have put the fun back into archery and that variety is the spice of life as they say!

A Gift with a difference? Why not treat someone to a Have-a-go Day or a Beginners Archery Course? We have gift vouchers available for these, please click here to learn more.For a glimpse of a Have-a-Go session please click here.
Forum Page to post comments and for members to contact each other to arrange shooting, uptodate news etc, please click here. Facebook page please click here

Longbow archery, living history.
Sheffield on the Internet
- Portal and Information Source for Sheffield, South Yorkshire and the Peak District for business, tourists, visitors and expats.